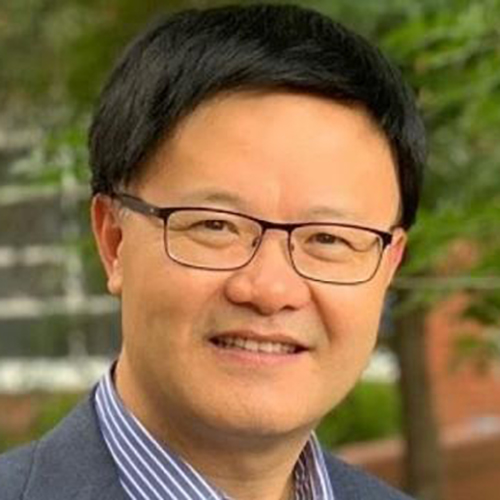 Professor Hua Wang carries out research on machine learning and data analysis, with a particular focus on data mining, artificial intelligence, deep learning, big data, privacy preserving, access control and cyber security and serves on the Research Council at the OCSC.
Hua is a Professor at the Institute for Sustainable Industries and Liveable Cities (ISILC) at Victoria University and since 2016, and as a Chief Investigator, Hua has successfully received six Australian Research Council (ARC) grants including four discovery grants and two linkage grants with $3.1M. He is also a successor for international grants such as two grants from Japan Society for the Promotion of Science (JSPS), one German–Australian grant (DAAD), one Norwegian government grant, three grants from Hong Kong and two from China.
Hua has published 312 refereed scholar papers, including 81 Q1 (ERA2018 ranked) Journal papers in machine learning, cyber security, Artificial Intelligence, privacy preserving and data analysis. Hua's h-index is 43 based on Google Scholar website. As a principal supervisor, he currently has 14 PhD students at Victoria University.
Since 2021, Hua has acted as a College of Expert by the ARC and has been an ARC reviewer since 2009. He reviews various proposals each year for ARC DP, LP, DECRA, LIEF. Hua is Editor-in-Chief, Featured Journals, European Alliance for Innovation (EAI) Transactions on Scalable Information Systems, and also editor for PLOS ONE and World Wide Web Journal, Springer. He is involved in many prestigious international conferences such as PC members (AAAI2019, IJCAR2019) and chairs for the International Conference on Web Information Systems
He is also a working committee member for:
IEEE Blockchain Standards group
IEEE COMSOC Project 1912 Privacy and Security Architecture for Consumer Wireless Devices Working Group
Japan Society for the Promotion of Science Alumni Association in Australia (JSPSAAA)
Data61 University Planning Committee.
Hua sat on the Research and Research Training Committee at VU for two years.